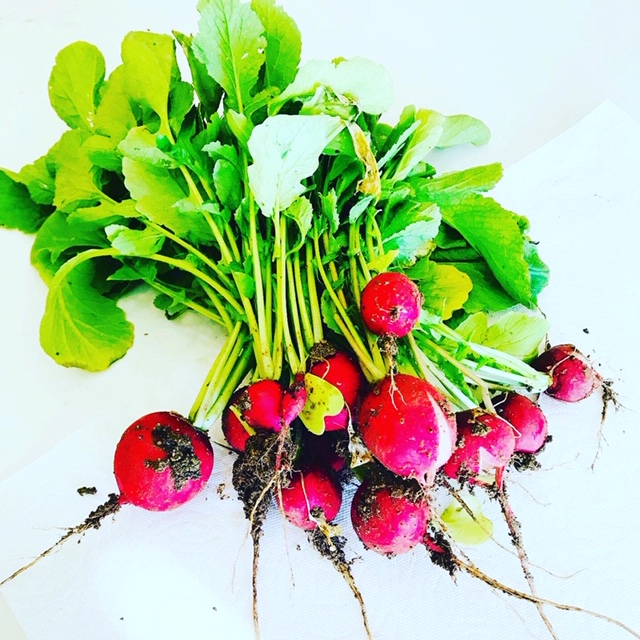 As we all are staying home more, it makes sense that many of us are getting back to basics. Spending time with family, working on puzzles, cooking meals at home, learning to bake bread and getting creative with projects around the home. Now maybe it's just me, but in addition to the baking sourdough bread trend, I've also seen a lot of gardening posts. Friends and family across the country are planting or prepping to plant fresh herbs, vegetables and fruit. There is something about watching your own food grow that brings comfort and accomplishment in these uncertain times. As we strive to use natural products in our beauty routine, we believe the foundation of health also comes from nature.
Being in the desert, I have a different growing season than most and our current garden is well on its way to harvest. Getting to this point in my gardening journey has taken some time and I have learned a lot. Regardless of your planting zone, my experience may help you on your own gardening journey.  But first, let's talk about the benefits of gardening and growing some of your own food.
Fresh, Organic Food at your Fingertips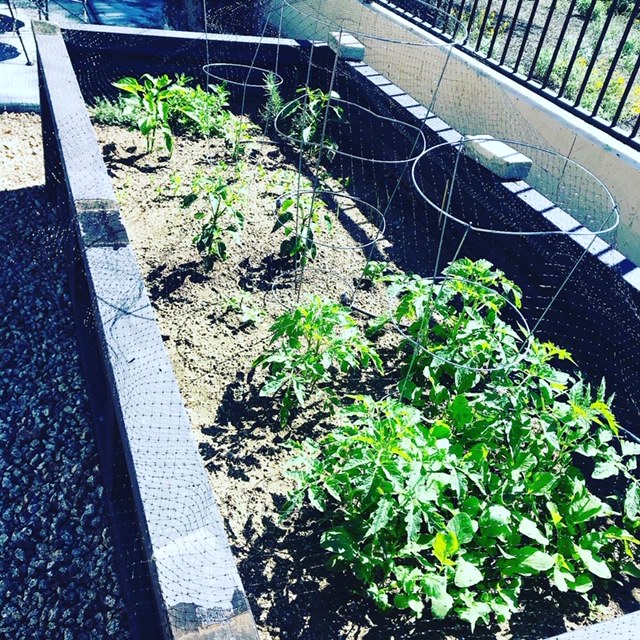 The most obvious benefit is that you can grow fresh, organic food. Fresh, from-the-garden food is so much more flavorful than anything you can get at a standard grocery store. The herbs are very aromatic and carry more phytonutrients than store bought herbs. And it goes without saying that when you grow your own food, you know where your food is coming from and what, if any, chemicals were used in the process. Growing your own basil, cilantro, oregano, thyme, or mint is a great starting point. These herbs are easy to grown and easy to incorporate in your daily cooking. Add some fresh herbs to scrambled eggs in the morning or into stir fry at night. Mix them into Greek yogurt for dips and sauces. Add them to your bone broth for additional nutrients. Herbs are a great starting off point for the beginning gardener.
Inspiration to Cook Creatively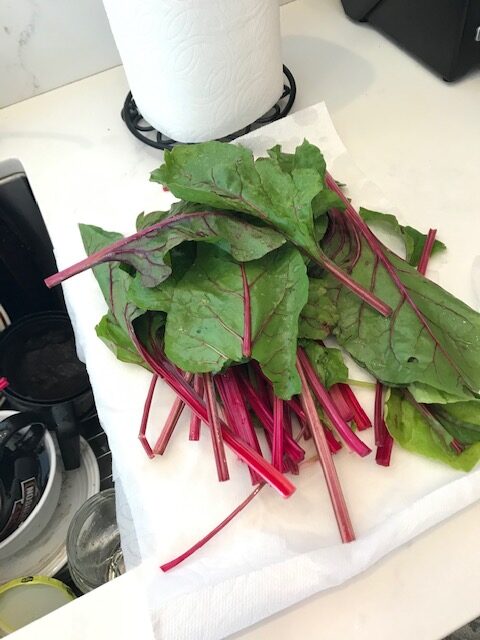 On that note, gardening has been a catalyst for learning new recipes. I have never been a fan of beets but now that I am growing them, I've learned to use them in recipes that I love.  One of my favorites is sautéed beet greens with olive oil, lemon and garlic. Served with salmon is one of my favorites. Fresh herb pesto is another go-to. The creativity is unstoppable with so many fresh, healthy choices growing right outside your door and the ease of finding and sharing new recipes. It's so satisfying to create a healthy dish from food that you have grown yourself! I am also finding new uses in our skincare for my organically grown herbs. Follow our IG @thepaxi for exciting news and also cooking recipes throughout the year.
Getting outside
Prepping and planting a garden is a great way to get outside and enjoy nature. It can also be a good workout, both low impact and high impact. Gardening may sound like a pretty low-key workout, but once you take on the challenge of creating larger beds or mixing your soil with nutrients, it becomes more strenuous. Planting, watering, weeding and the daily, "…let's check on the garden" is almost therapeutic to me. There is nothing like nature to calm one's nerves and relax while getting some vitamin D.
Changing Perspective and Seeing New Life in Growth
Our First Year – Learning From Scratch
Three years ago, we joined a community garden group. We paid a flat fee to have a bed with water provided. We had a group of fellow gardeners we could learn from. There were a few Master Gardeners in the group and one of them had a favorite motto, "…It's fun just to see what comes up!". I actually thought that wasn't a very good motto. We were so serious about planting that first year, taking all the advice we could and expecting great results. Along came rabbits, ants and a plethora of crickets that ate away at our "babies". We had to pivot and find organic ways of dealing with the pests. Our harvest was not very bountiful that year and we were disappointed in the effort and time we put into the garden. We almost gave up. Then late in the season, our cilantro took off. I will never forget cooking with that cilantro and how much better it was than the store-bought cilantro I had been using. This was the hook that kept me trying.
Year Two was Much Better…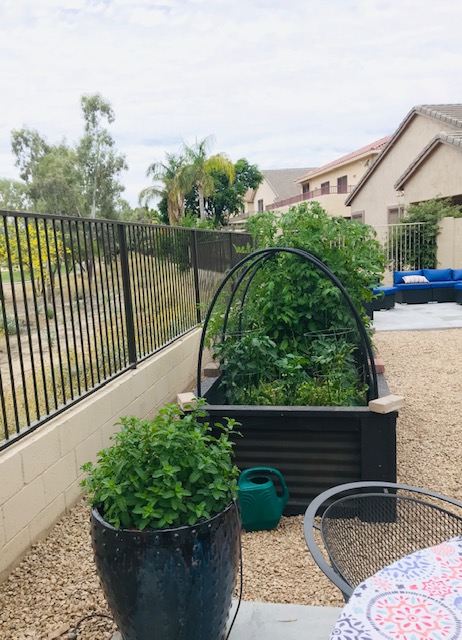 Year two was better. We tried some new vegetables based on those that were growing in our neighbor's beds. The harvest was more plentiful and we learned new techniques. This year (year 3), we added a bed and also some pots and planted a lot of new things. Watching what, "…comes up", is very exciting and I now know what that Master Gardener meant! Had we not gone through some trial and error we wouldn't know what was possible. Learning from the group has also been a big help. Seeing what comes up, watching growth and newness gives us optimism for the earth and also that we can be self-sustainable, giving us confidence in ourselves as we move into uncertain times.
Better for the Environment and Community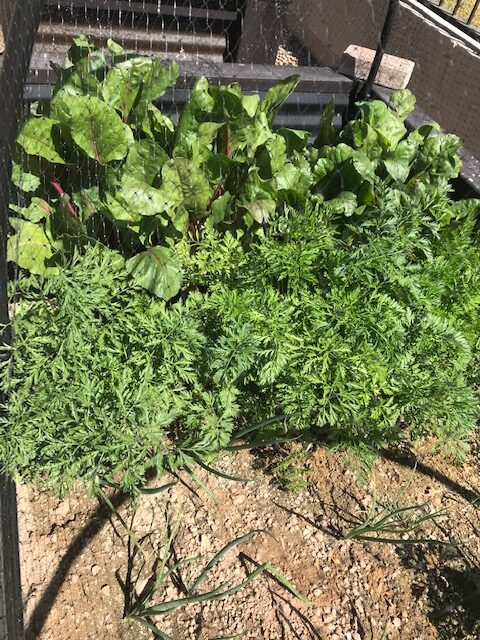 One of the reasons the fresh vegetables and herbs are so flavorful is that they can be picked when ripe and used right away. Think about how far grocery store vegetables travel before you might purchase them. And think about how long they've been off the vine or out of the dirt before you get around to using them in your cooking. I know many stores try to stock vegetables from local farms but many still come from far away, especially if they are out of season. Once you are growing your own, you realize what is in season and are more apt to use what you have. You can also share your bounty with friends and neighbors or even the local food bank.
Try it Yourself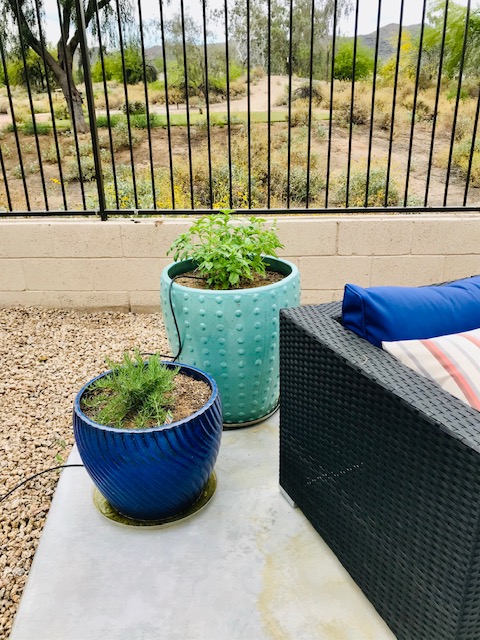 There are so many benefits to planting your own garden. From healthy food, to sunshine, to being a part of a gardening community, it will enrich your life in many ways. Start with some small pots of herbs in a sunny spot in your yard or on your balcony or windowsill. Use it as it grows and experiment with recipes. If you are interested in a bigger garden, the first step is to find your zone. Once you find your zone you can figure out what to plant during each month. I recommend finding a gardening community or group in your area which will offer advice. Facebook groups are plentiful and so helpful.
For more about our desert garden, follow us on our social media and stay tuned for more blog posts with some organic gardening and organic living tips! And don't forget to shop our skincare serums and oils, all made from organic ingredients. Shop now.